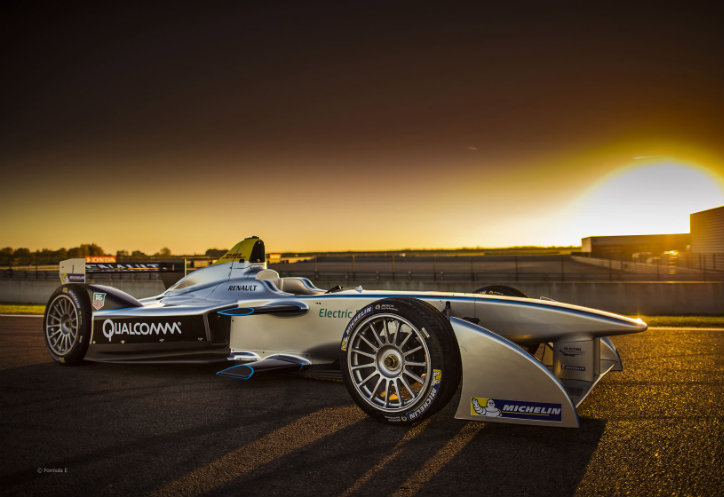 What You Need to Know Before the First Ever Formula E Race This Weekend
Formula E, the first all-electric racing series, begins this weekend with the inaugural Beijing ePrix running on a specially designed 2.14-mile street circuit around the city's "Bird's Nest" stadium from the 2008 Olympic Games.
The races are operated by the same body that runs F1 (the FIA), and they'll race on some of the tracks used by the famous racing series, but electricity will make for a different sport. High-level competition will highlight the advantages of electric vehicles, like terrific acceleration that can make passing possible on tracks with tight corners. The downsides of the technology will be on display as well, especially limited range, an issue the race organizers haven't figured out just yet. So before you sit down to watch the very first ePrix on Saturday, the first of ten races that make up the sport's premiere season, here's what you need to know.
The Cars
To save on costs, all ten teams are using a nearly identical car, at least for the first year. The awkwardly named Spark-Renault SRT_01E is built by a new French company, Spark Racing Technology. The carbon fiber and aluminum chassis is sourced from Dallara, the electric powertrain and electronics are from McLaren Electronics Systems, and Williams Advanced Engineering is building the 200-kilowatt battery pack.
The batteries and powertrain will generate 270 horsepower through a five-speed paddle shift gearbox, with fixed gear ratios for the first year, again to reduce costs. Michelin is providing 18-inch tires that will be used in both wet and dry conditions. Then there's the sound. At high speeds, a single SRT_01E produces an 80 decibel whine that sounds somewhat like an airplane—or a remote-controlled car—picking up speed. We'll hear the full grid, with 20 cars taking off simultaneously, for the first time in Beijing.
CONTINUA A LEGGERE SU WIRED US
Lascia un commento