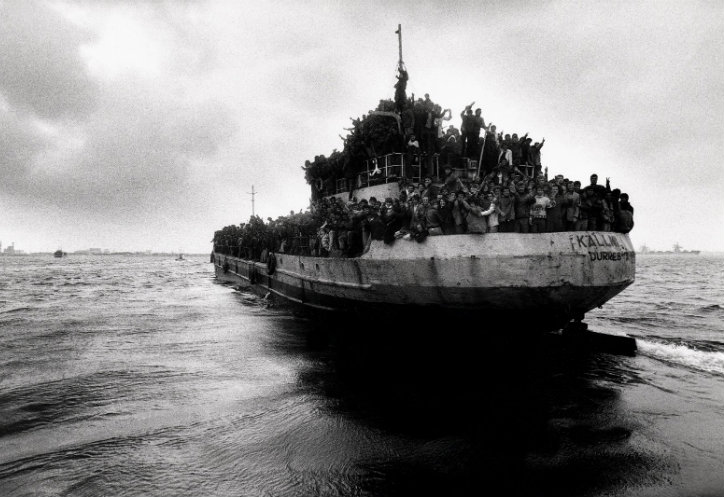 NYT: Sicilian Town on Migrants' Route Cares for the Living and the Dead
POZZALLO, Sicily — The 18 coffins were placed in two neat rows beneath the late-afternoon sun as the mayor and other dignitaries took their seats inside the hilltop cemetery. A Catholic vicar-general offered a homily. A Muslim imam unfurled a small rug and knelt in prayer, his singsong voice rising above the stone mausoleums toward the blue of the Mediterranean.
They had come to mourn strangers. Inside the coffins were the bodies of Africans who died in August, collected from the smuggler boats that were carrying them into Europe. Eight of the coffins bore small plaques that stated, simply, "Sconosciuto," or "Unknown."
"The opposite of love is not hatred," Msgr. Angelo Giurdanella said toward the end of his homily, "but indifference."
No one could accuse Pozzallo of indifference. This small Sicilian town, like Italy itself, has staggered its way through a skyrocketing migration crisis in the Mediterranean that has seen roughly 120,000 migrants rescued by Italian ships this year, almost triple last year's figure, while nearly 2,800 have died in shipwrecks or in transit, a fourfold increase. And more bodies may be coming. Rescuers are searching in the waters near Malta after reports this week that more than 750 people may have died in two shipwrecks in recent days.
Over the past three years, Italian authorities have swung from a hard-line policy to "push back" migrant vessels to Libya, to a search-and-rescue program to deliver them safely to Italian ports like this one. Migrants still keep coming.
Today, Europe finds itself caught between a backlash at home against the rising numbers of migrants flooding the continent and international pressure to provide a humane response to a crisis that includes refugees from wars in the Middle East.
"It is a river of people coming in," said Daniele Carrozza, who runs one of the many holding centers in Sicily that house migrants, among them several thousand unaccompanied minors. "For the next few years, we are going to have an exponential increase."
Until three years ago, Europe mostly acted to deter migrant boats, as Italian ships and those of Europe's border agency, Frontex, pursued the "pushback" tactics along the Libyan coastline. But the outbreak of the Arab Spring in 2011 changed the strategy, as well as public attitudes.
Waves of refugees risking their lives to make passage to Europe stirred global sympathy. In response, Italy suspended the pushback operations, and then a landmark 2012 ruling by the European Court of Human Rights barred Italy from continuing the tactic.
CONTINUA A LEGGERE SU THE NEW YORK TIMES
Lascia un commento